Reverse Book Signing Fund Raiser
Nurture You conducts fund-raising events for non-profits that provide services to single individuals who would benefit from Joanne's book.  The events provide monetary donations to the organization along with copies of Joanne's dating guide for the men and women the non-profit supports.  The events are called "reverse book signings" because purchaser, not the author, writes an encouraging message and signs the book for donation.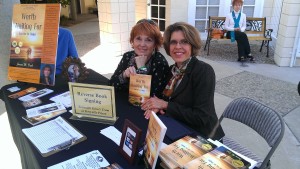 Purpose
Get Worth Waiting For, Sane Sex for Singles to women and men who would benefit from an uplifting message about their worth as a single individual.

To raise money for the non-profit organization.

To give people an easy, affordable way to support the non-profit and the population it serves.
Concept
The non-profit and Nurture You hold a "reverse book signing" event where the purchaser autographs a copy of the book which he or she then donates to the non-profit to be given to woman or man it serves.  The book retails for $13.95; the buyer would pay just $10 – Nurture You donates half of the proceeds to the non-profit.
Location
The event could be held as a stand-alone event or as part of an event held by the non-profit.  A link is also posted on the Nurture You website for individuals to donate a book using PayPal.  Joanne advertises the link and the event in her weekly newsletter.
Who
The non-profit invites its supporters to attend the event.
The Book
Worth Waiting For, Sane Sex for Singles is a three-time award winner:
               – finalist in the 2010 Next Generation Indie Book Award.
               – 3rd place non-fiction in the 2010 Arizona Authors Book Awards.
               – finalist in the National "Best Books 2010″ Awards.
In Worth Waiting For, Sane Sex for Singles, singles of all ages are invited to set an intention for how they would like to experience physical intimacy when dating. The approach is not a religious or moral one, and this is not another abstinence message. Rather, the book examines today's dating model and why it's not working and how dating can be undertaken in a way that is more physically and emotionally fulfilling. Singles are encouraged not to settle, but to know their true worth. Sane sex happens in the context of an exclusive, loving relationship and is relevant to adults of all ages regardless of sexual orientation.
Other
As a professional trainer and speaker, Joanne is available to conduct a book talk or give a related workshop for the organization's benefit.
To learn more, contact Joanne at joanne@joannedeck.com or 602-909-8598.