Set Yourself Up to Succeed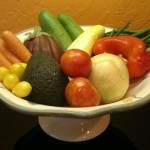 You can have a healthy lifestyle – or at least a healthier one.  Set yourself up for success.  Commit to weekly food shopping so you always have fresh produce on hand.  Wash it before you put it away, so you can grab it and go during the week.  Lay your walking clothes and shoes out before you go to bed, so you can take the dog for a walk before you go to work.  Keep an extra set of workout clothes in the car, so you can stop after work or go for a walk at lunchtime.  Get the idea?  Now add an idea of your own.
Tags: coaching, diet, disease prevention, exercise, fitness, happiness, health, lifestyle, nutrition, stress management, weight loss, wellness, work-life balance
Trackback from your site.