Navigating the Singles Dance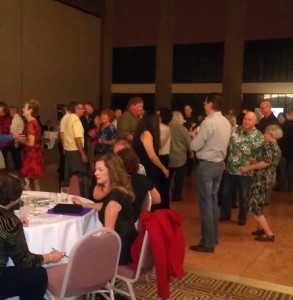 If you're single, I hope you're at least thinking about going to the semi-annual Calculated Couples Singles Fair and Ball I wrote about last week.  Don't let the thought of facing the event alone keep you away.  Here are some tips to get you started:
You may want to go to with a friend or two; just don't hang around with the person you came with. 

Read Susan RoAne's How to Work a Room, Revised Edition: Your Essential Guide to Savvy Socializing (link) to become more comfortable mingling in groups where you don't know anyone.

If you're more experienced, you'll find that going alone can be quite fun.  You have to get out there and talk to people, but you can leave when you want (or stay as long as you want).

Avoid sitting at a large table with five or more people; make it easy for people to find you and approach you. 

Sit with one or two people of the same gender and keep the conversation on small talk – and be positive. 

Be interested in what's happening around you, and make it possible for people to break into your conversation. 

Look for someone alone who appearso need someone to talk to; this is your opportunity to approach him or her.

Finally, one topic you're sure to have in common with the others at the dance is being single.  Using this as a conversation starter is a great way to learn about other singles events and groups you could explore.
Tags: casual sex, dating, emotional intimacy, Joanne Deck, love, Nurture You, relationship advice, relationships, romance, sane sex, sex, sexual health, singles, superficial sex, worth waiting for
Trackback from your site.