Living in the Divine Flow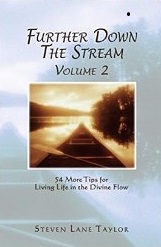 I'm excited that one of my favorite authors, Steven Lane Taylor, has published a new book: Further Down The Stream, Volume 2: 54 More Tips for Living Life in the Divine Flow.  For those not familiar with him, years ago Steven learned that by paying attention to his inner Spirit he could live in the Divine Flow and enjoy a life of joy and ease, rather than one of stress and struggle.  In his writing, he uses the classic song, "Row, Row, Row Your Boat," to illustrate how we can align or "row" with the natural flow of the Universe to achieve our life goals easily.
This latest is his third book on the subject, and I find it as relevant and helpful as the first two.  It comes at a perfect time for me.  As many of you know, I've been very influenced by Anita Moorjani's near death experience and her conclusion that it's best to stay open and let things come to us, rather than aggressively pursue the life we desire.  While it wasn't the purpose of her book to advise us just how to do that, it is Steven's message.  His book gives many insights along with practical examples demonstrating ways to cooperate with the Divine Flow toward the effortless fulfillment of our heart's desires.  If you're ready for life to get easier and be more fulfilling, I highly recommend this book.
Tags: accepting, blessing, faith, forgiveness, giving, giving and receiving, gratitude, Joanne Deck, learning to receive, Nurture You, prayer, receiving, receptivity, recognition, thankful
Trackback from your site.