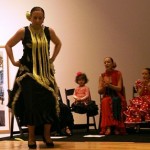 Are you as inspired and motivated by the Winter Olympics as I am?  For 18 days we were riveted to the couch in our household, and I still feel pumped.  Although I have been a huge fan of the Olympics all my life, two things really struck me this time.  The first was how dangerous the winter games are, so much more so than the summer sports.  In fact, a couple of athletes made it to Sochi but then never got to compete due to an injury sustained during a practice run there.  The second was how many of the athletes competed while not fully recovered from an injury or illness or having recently healed from devastating injuries and/or major surgeries.  What drive these folks have!
Thankfully, we do not have to do anything close to this to be active and physically fit.  We do need to find some of that passion they exhibit, however, if we're going to stick with an exercise program.  There's good reason to find an activity we enjoy, as exercise simply is not an option if you want to live long and well.  Open your mind to the idea that you are designed to move every day, and failing to do so is unnatural, even it's been your practice thus far.  That means being active before or after work if you have a full time sedentary job.  If you enjoy home renovations or gardening or have a hobby that keeps you active, great.  Most people don't, so you're in the majority, look at your local community colleges or the YMCA for classes.  You'll have the instruction, structure and companionship needed to get started and keep going, all for an affordable price.  Ask your HR department if the company offers any discounts on gym memberships.  Consider exploring in your own neighborhood for dance or yoga studios, small gyms, or a Jazzercise center (my personal favorite).  Pay attention to the dog walkers on your street and start a dog club.
Once you've found an activity you enjoy, continue to maintain your motivation.  Follow your favorite athlete on social media to keep the inspiration going.  If they can keep going year after year and love doing it, so can we!
Tags: coaching, diet, disease prevention, exercise, fitness, happiness, health, lifestyle, nutrition, stress management, weight loss, wellness, work-life balance
Trackback from your site.